Technology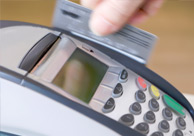 A Credit Card Payment Processor Committed to Innovation
On The Mark Payments is committed to remaining on the forefront of technology and has consistently held a leadership role within the industry by delivering customized and technology-driven solutions that offer clients clear and distinct advantages. For the security, flexibility and convenience required for payment processing solutions, On The Mark Payments utilizes only the most sophisticated hardware and software. Our processing solutions are multi-functional and designed to successfully address the unique requirements of individual merchants - maximizing efficiencies, streamlining processes and reducing operating costs. Today's competitive environment demands nothing less.
Adhering to All Electronic Credit Card Payment Processing Regulations
Due to the sensitive and private nature of personal financial data, electronic payment processing is a highly-regulated industry. In a full commitment to privacy and the strictest confidence, On The Mark Payments adheres to stringent data security and supports and promotes PCI compliance. On The Mark Payments meets all the requirements established by the Payment Card Industry Security Standards Council (PCI SSC), which is an alliance of the five major credit card companies.
Always remaining current and compliant with all industry regulations, On The Mark Payments' goal in this regard is always the same - protection of all parties involved in electronic transactions. This includes the cardholder, merchant, processor and the issuing bank.
Rely on a credit card payment processor that commits to the latest technology and security regulations.