Hospitality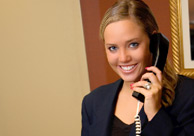 Dependable Hotel Credit Card Processing
On The Mark Payments' customized hospitality electronic payment system is one of the most comprehensive in the industry. It is designed to offer fast, reliable non-cash transaction approvals with greater management control, reduced paper-handling, improved customer service and full audit trails. The On The Mark Payments' hotel credit card processing solution affords clients unprecedented benefits and cost efficiencies.
A Credit Card Processing Solution That Seamlessly Integrates with Hotel Software
The hospitality industry is fast-paced and high-volume. Hotels, motels and resorts - regardless of size or geography - demand a credit card processing company that understands the industry's intrinsic needs and is adept at managing the enormous daily volume of electronic payment transactions with a proven and integrated solution. On The Mark Payments' customized payment processing solutions successfully and seamlessly integrate with a multitude of hospitality and hotel management software and POS equipment.
Additionally, many hospitality, hotel and resort merchants utilize recurring payments to automatically process dues, reservations, memberships or subscriptions. On The Mark Payments makes it easy for merchants to charge the same amount to the same payment card on a regular basis.
Our experienced team is always available for networking support, on-site setup and training, telephone help and troubleshooting.
Call to learn more about On The Mark Payments' customized hotel credit card processing solutions.