Retail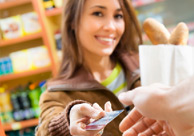 Retail Payment Processing for Today's Competitive Landscape
In traditional brick and mortar retail environments, as well as within the e-commerce space, accepting credit and debit cards as a form of payment is a necessity. But for busy retailers with a commitment to customer services, a smooth and rapid point-of-sale transaction is paramount. Successful retailers - both online and in-store - look to partner with a retail payment processing company that consistently delivers an electronic payment transaction that is secure, speedy and streamlined.
Retail Payment Processing That Delivers Seamless Software Integration
On The Mark Payments offers customized payment processing solutions that successfully integrate with a multitude of POS systems, even the most diversified and sophisticated. Today's merchants are also embracing wireless and mobile technology to facilitate electronic payment processing. Mobile payment applications are available, allowing for even more flexible and portable payment processing solutions than ever before. Wireless and mobile processing are ideal for merchants operating where phone lines and Internet connections may be nonexistent.
For e-commerce merchants, regardless of size, On The Mark Payments delivers a state-of-the-art, web-based payment processing platform with features and functionality that support virtual terminals, payment gateway or shopping carts.
For retailers that own their equipment, wherever possible, On The Mark Payments will simply reprogram and provide a new help desk telephone number. When new equipment is required, the hardware is state-of-the-art, multi-functional and cost-effective.
Our experienced team is always available for networking support, on-site setup and training, telephone help and troubleshooting.
Contact On The Mark Payments to learn more about these customized retail payment processing solutions.