Financial Institutions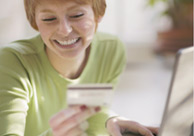 Merchant Services Programs That Generate Revenue
To remain competitive in today's challenging business landscape, financial institutions large and small need to capitalize on a comprehensive product and service portfolio. Integral to that product offering is a turn-key credit and debit card processing program that not only meets - but exceeds - the growing needs of diverse commercial accounts. At the same time, in order for it to be truly successful, a merchant services program needs to deliver significant benefits to the financial institution itself, such as increased commercial account balances and an incremental revenue stream.
Merchant Services Programs Built on a Commitment to Excellence
For more than 40 years, On The Mark Payments' principals have lead the industry with innovative electronic payment processing products and services that are rooted in the latest technology and improve the way their clients do business. Their unwavering commitment to excellence, coupled with innovation and technology-forward solutions, allows On The Mark Payments to continually set new standards with a unique and aggressive credit and debit card processing program tailored specifically for financial institutions.
An Electronic Payment Processing Company That Understands Your Needs
The right merchant payment processing partner - that takes the time to understand and respond to your inherent needs - will deliver an electronic payment processing program that generates an expanded commercial portfolio, increased account balances and a stronger revenue stream. To achieve this competitive advantage in today's marketplace requires more than a back-end electronic payment processor. You need a proven partner with the ability to provide cost-effective pricing, quality products and services, emerging technologies and exceptional customer support.
On The Mark Payments' Customized Merchant Services Programs Provides:
Residual Revenue Stream
Increased Commercial Account Balances
Cash Advance Revenue
Merchant Revenue
Referral Revenue
24/7 Technical Support
Detailed Management Reporting
Dedicated Branch Sales Support
Ongoing Educational / Training Sessions, Support and Incentive Programs
Employee Rewards
Contact On The Mark Payments and learn more about our Merchant Services Program benefits.
Referral Portal for Financial Institutions