Healthcare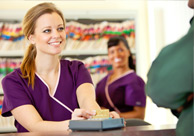 Gain Operational Efficiencies With Healthcare Payment Processing
On The Mark Payments provides cost-effective and flexible healthcare payment processing and authorization programs that are designed to create enormous differences in the way providers conduct business - streamlining services, reducing operating costs, improving collection management and enhancing cash flow. Supporting medical, dental, vision and veterinary offices, as well as personal care and wellness centers, On The Mark Payments understands the industry's intrinsic and specific payment processing needs. On The Mark Payments is a long-standing credit and debit card processing partner for many national, state and regional healthcare associations.
Healthcare Payment Processing With Smooth Integration
All On The Mark Payments' programs are capable of wide integration with specific healthcare industry software platforms, including practice management systems, insurance verification systems and PC proprietary software programs. Whether within the wellness, personal care or healthcare environments, this multi-system integration serves as a true value-added management tool, while providing improved functionality, reduced operating costs and greater customer service.
Forensic Analysis for Hospitals and Medical Centers
The value of cost savings and operational efficiencies are important to every organization, but most particularly for today's hospitals and medical centers. On The Mark understands this and has put together a team of forensic specialists who will evaluate an individual hospital's processing environment in person – visiting each and every department accepting electronic payments to review and understand current hardware, software and acceptance procedures. This cost-free assessment, in combination with the hospital's current processing statements affords our team the ability to provide hospital management with a side-by-side comparative analysis of fees and recommendations. Considerable savings and efficiencies are most always realized. Schedule your assessment today.
Contact On The Mark Payments and learn how the right healthcare payment processing solution will deliver improved operational functionality.