Support Services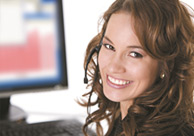 Not All Credit Card Payment Processing Companies Are The Same
On The Mark Payments is more than just a credit card processing company, standing on decades of proven merchant processing experience coupled with a significant and long-standing financial industry focus. We understand customer service and we know what it means to build a true client partnership - from the sales process, to boarding, and through the life of the processing relationship. Our experienced team is always available for networking support, on-site setup and training, telephone help and troubleshooting.
Delivering Unmatched Program Support for Financial Institutions
Financial institutions of every size benefit from the electronic payment processing programs provided by On The Mark Payments, which are high-performance, revenue-generating programs with a strong emphasis on service and support. Whether that support is required at the bank branch level, the merchant level, or both, On The Mark Payments is a credit card processing company that delivers a level of customer service and technical support that is unprecedented in the industry.
Contact On The Mark Payments to learn more about the benefits of our credit card processing services.