Restaurant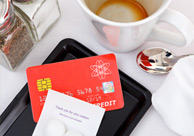 Cost-Effective Credit Card Processing for Restaurants
Within today's nearly $632 billion dollar restaurant industry, restaurateurs are often faced with many challenges, including increased competition, rising food costs and a stagnant economy. Whether it's a table service restaurant, quick service chain, social catering or a food service company, these challenges translate to slimmer margins and a need for cost-efficient and effective operating systems. That includes restaurant payment processing and the need to partner with a company that consistently delivers an electronic payment transaction that is secure, speedy and streamlined - at an aggressive price point.
Tailored Restaurant Payment Processing Solutions
To capitalize on all the benefits of credit and debit card acceptance, restaurateurs need tailored and customized solutions that deliver industry-specific features. The right restaurant payment processing solution will improve cash flow, streamline operations, allow for more targeted sales forecasting and enhance customer service.
Regardless of size or location, On The Mark Payments offers customized credit card processing programs that successfully and seamlessly integrate with a multitude of industry-specific management software and POS systems. For restaurants that own their equipment, wherever possible, On The Mark Payments will simply reprogram and provide a new help desk telephone number. When new stand-alone equipment is required, the hardware is state of the art, multi-functional and cost-effective.
Our experienced team is always available for networking support, on-site setup and training, telephone help and troubleshooting.
Reach out to On The Mark Payments today and discover how the right credit card processing solution improves restaurant operations and cash flow.